Consortium - People
The CREW consortium consists of 8 core partners, 3 additional partners via Open Call 1 and 6 more partners via Open Call 2. You can find out more about the partners using the links below the map or from the main navigation dropdown menu above. The project partners and key persons are listed below:
Core partners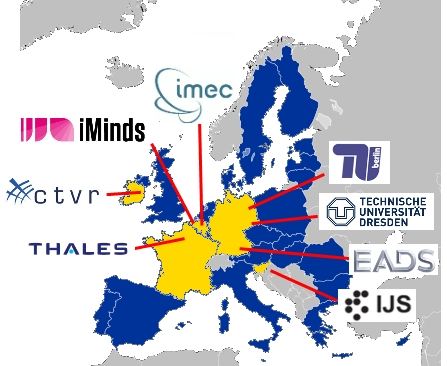 iMinds (Belgium) (coordinator)
Jono Vanhie-Van Gerwen
Bart Jooris
Pieter Becue
Jan Van Ooteghem
Wei Liu
Michael Mehari
imec (Belgium)
Mattias Desmet
Peter Van Wesemael
(previously: Sofie Pollin)
CTVR (Ireland)
João Paulo Cruz Lopes Miranda
Linda Doyle
Justin Tallon
Danny Finn
Technische Universität Berlin (Germany)
Adam Wolisz
Mikolaj Chwalisz
Technische Universität Dresden (Germany)
Gerhard Fettweis
Rohit Datta
Andreas Festag
Nicola Michailow
Thales Communications & Security S.A.S. (TCS) (France)
Somsaï Thao
Alejandro Sanchez
David Depierre
EADS (Germany)
Christoph Heller
Christian Bluemm
Jožef Stefan Institute (Slovenia)
Miha Mohorc(ic(
Carolina Fortuna
Tomaž Šolc
Miha Smolnikar
Open Call 1 partners
Mohamed Kalil
Open Call 2 partners
University of Thessaly (Greece)
Leandros Tassiulas
Stratos Keranidis
National ICT Australia (Australia)
Instituto de Telecomunicações (Portugal)
Paulo Marques
Rogerio Dionisio
CMSF-Sistemas de Informação (Portugal)
CNIT (Consorzio Nazionale Interuniversitario per le Telecomunicazioni) (Italy)
Ilenia Tinnirello
Pierluigi Gallo
Francesco Gringoli
WINGS ICT Solutions (Greece)
Kostas Tsagkaris
Andreas Georgakopoulos
Dimitrios Karvounas
Nikos Koutsouris
Open Call 3 partners
iMinds (IBBT)
iMinds (formerly known as IBBT) is an internationally recognized multidisciplinary research centre (looking at technological, legal, business and sociological aspects) and enables accelerated development and exploitation of new ICT products and services in strategic sectors in Flanders (Belgium). The
INTEC Broadband Communication Networks (IBCN)
research group is a leading telecommunications and software research group based in Ghent, Belgium, belonging to the
Department of Information Technology (INTEC)
of the
Ghent University (UGent)
and to iMinds.
Tasks in this project
iMinds will provide the
w-iLab.t testbed
to the federation and will actively contribute to all workpackages. iMinds takes also the lead of the WP4 on the benchmarking of the federation. Furthermore iMinds does the overall project coordination, and will overlook the quality performance of the project in view of the EU FIRE initiatives. iMinds has established links to the FIRE community already, and will also interact directly with the EC project officer as a spokesperson for the CREW consortium.
Experience
IBCN's research scope can be categorized in following domains:
Advanced network architectures and protocols;
Emerging mobile and wireless networks;
Innovative service delivery architectures & software applications.
The group has participated in numerous EU projects, is frequently partnering with local ICT industry and takes part in national and Flemish research programs. For this IP project, iMinds provides its expertise regarding the implementation of cognitive networking solution in co-located heterogeneous wireless environment. Further, iMinds will make its test facilities available to the federation. These facilities include the
iMinds iLab.t Wireless Lab
(200 nodes with IEEE 802.11a/b/g and sensor interfaces) and a wide range of wireless measuring equipment. iMinds has recently developed a benchmarking framework for the wireless sensor network research, which will be extended in this project for heterogeneous wireless environments.
imec
Imec performs world-leading research in nanoelectronics. Imec leverages its scientific knowledge with the innovative power of its global partnerships in ICT, healthcare and energy. Imec delivers industry-relevant technology solutions. In a unique high-tech environment, its international top talent is committed to providing the building blocks for a better life in a sustainable society. Imec is headquartered in Leuven, Belgium, and has offices in Belgium, the Netherlands, Taiwan, US, China and Japan. Its staff of more than 1,750 people includes over 550 industrial residents and guest researchers. In 2009, imec's revenue (P&L) was 275 million euro. Further information on imec can be found at www.imec.be. The wireless program of imec is part of the smart systems business line, and hosts ~ 55 researchers, of which ~ 1/3 hold a PhD degree, and ~ 15 PhD students.
Tasks in this project
Provide low-cost, low-power yet high-performance solution for spectrum sensing. Defining, implementing and benchmarking usage scenarios and test cases for spectrum sensing, through federation with the other partners. Assist external experimenters in defining their tests, sustainability of sensing solution in the testbed. WP leader.
Experience
The R&D expertise of imec is focused around 3 main research themes: Cognitive reconfigurable radios, Gbit/s radios @ Mm-wave, and Ultra Low power radios and sensor networks. The activities cover a wide range of wireless system and implementation challenges, including: system exploration, air interface studies for algorithm-architecture co-design and cross-layer optimization, HW and SW realizations, models & simulators, and (wireless) prototypes. The department publishes ~ 100 papers per year, in the top conferences and journals in the fields of communications, solid states, and signal processing.
TCD
Trinity College Dublin
(TRINITY COLLEGE) is the leading university on the island of Ireland and is ranked 13th in Europe and 53rd in the World according to the Times Higher Educational Supplement global rankings 2007. The University has 24 schools across 3 faculties and has currently over 1,500 research accounts. TRINITY COLLEGE covers all the major scientific disciplines, participates in all the major EU R&D programs and has research income which now accounts for more than one third of Trinity's annual operating budget and which has increased from €20 million in 2000 to a €81million in 2007. Technology transfer, patents, licenses and associated outputs have increased in parallel with the increase in research. This increased research activity has come from a wide variety of sponsors but with particular emphasis on Science Foundation Ireland, and Higher Education Authority Programme for Research in Third Level Institutes, HEA PRTLI. Other major providers of research income to the College are the European Union, the Health Research Board, Enterprise Ireland and other Public Sector bodies, Business and Industry and Charities. The percentage of the College's Research income that comes from Irish sources is now 87.73%.
Tasks in this project
CTVR
at TCD will bring the IRIS GPP software radio platform to the table. This will be one of the four main testbeds in the project and because of this will be involved in all work packages. TCD will take a major role in the CREW federation activities (WP3) as well as work in extending the testbed based on both internal and external user input (WP5). TCD will also take a strong lead in some of the internal usage scenarios especially those involving heterogeneous coexistence (WP6).
Experience
The Centre for Telecommunications Value-Chain Research (CTVR) is the leading telecommunications research centre in Ireland. It was established in 2004 and is headquartered at Trinity College. It brings together a multidisciplinary team of 100 researchers operating in 8 Irish Universities and third level institutes working on key problems in wireless and optical networking. It has 12 industry partners and takes an industry informed approach to its research. CTVR in Trinity College is mainly focused on cognitive radio and cognitive networking and has established an international reputation in the field. The researchers listed below also participate in the recently funded FP7 project "Cognitive Radio Systems for Efficient Sharing of TV White Spaces in European Context (COGEU)".
TUB
Technische Universität Berlin is, with ca. 30.000 students, the biggest German University of Technology. It is, however, also a research university, with telecommunications being one of the key areas of its competence. The School of Electrical Engineering and Computer Science creates – in cooperation with a group of affiliated research institutes and the on-campus industrial research (e.g. the Deutsche Telekom Laboratories; Fraunhofer Institutes, Leibniz Institutes) – a unique ecosystem in telecommunication, oriented on basic and applied research. The recently established Innovation Center of Human-Centric Communication bundles research effort of numerous faculties and leading researchers within this eco-system. The Telecommunication Networks Group (
www.tkn.tu-berlin.de
) participating in this project conducts since 1993 research in architectures and protocols of communication networks. With around 30 researchers and PhD students and ca. 1.5 m of external funding per annum, it belongs to the strongest research groups of the School of Electrical Engineering and Computer Science. The methodology of research is based on a mixture of analytical/simulative investigations on one side and the experimental research on the other side. To this point the group has well equipped laboratories, including the TWIST testbed, environments for prototyping of WLAN systems (down to MAC modifications), has access to an emerging open mesh network testbed (to be operational starting in winter 2009) and is participant of the world largest Internet testbed – PlanetLab
Tasks in this project
TUB will contribute to all WPs focusing its activities on Tasks 2.3 and 6.4. TUB will lead WP5.
Experience
TKN is working since 2003 on cognitive radio based secondary usage of radio resources following different architectural paradigms (Corvus, 802.22 frequency hoping modus, secondary usage of CDMA based cellular systems). The research results are widely cited and appreciated, including the Best Paper Award at the IEEE Symposium on Dynamic Spectrum Access Networks (DySPAN) on the technical track.
TUD
Technische Universität Dresden (TUD) was founded in 1828 and is among Germany's oldest and most renowned Universities of technology. The TUD is the largest University in the region, with more than 30 000 students and 4 500 employees, including about 600 professors. The current focus of the Vodafone Chair Mobile Communications Systems at the University of Dresden lies on the physical layer systems research including medium access problems, with a special emphasis on wireless radio network problems (capacity and planning), wireless modems (mobile terminals and base stations), and IC implementation architectures. Of particular interest are problems and solutions that are found in a trade-off between these focus areas. The chair was founded in September 1994 by an endowment of the Mannesmann Mobilfunk GmbH, Düsseldorf, Germany. These areas are considered key to realizing a radio system concept based on the QoSMOS approach. TUD is involved in European and national research projects on a regular basis.
Tasks in this project
Within CREW, TUD will coordinate the test activities that are related with the EASY-C testbed. Cellular use cases and CR-related field trials are provided by the Dresden test bed, which is supervised by TUD. TUD coordinates the workpackage on the general requirements (WP2).
Experience
Currently, 23 Ph.D. students work at the Vodafone Chair Mobile Communications Systems. They are involved in teaching as well as project work. The main areas of expertise are the relation of baseband and RF signal processing ("Dirty RF"), MIMO and relaying algorithms and performance, and IC design for digital communications. TUD was/is involved in previous CR projects such as ORACLE(FP6) and QoSMOS(FP7), contributing in the areas of signal processing and transceiver architectures.
TCS
Thales
is a world-wide leader in electronics and systems, leveraging dual use technology to serve three correlated fields: defense, aerospace and security. The group employs 68,000 people in 50 countries worldwide. Thales Communications and Security SAS is a key player of SDR technology development, being involved in development of demonstrators, advanced research programs and standardization activities since near a decade. Recent noticeable involvement comprises IST E2R II, E3, PASR WINTSEC, SDR Forum and OMG activities. Thales is involved in several collaborative research projects on Software Defined Radio, and has already manufactured a full range of radio-communications equipments now appearing as early enablers of Cognitive Radio (e.g. Automatic Link Establishment Free Channel Discovery for radios, sensing techniques for spectrum control).
Tasks in this project
TCS will take on the role of technical coordinator of the project, and will also lead WP8 on the promotion and sustainability of the federated platform. TCS will also lead the standardization activities related to the XCVR Facility API. And effort is allocated to the sensing algorithms development and integration in the federation testbeds.
Experience
CREW will strongly benefit from the previous European funded project experience in which TCS has participated and from the long-date experience in the area of sensing and radio spectrum metrology
EADS
EADS
is a global leader in aerospace, defence and related services. In 2008, EADS generated revenues of € 43.3 billion and employed a workforce of about 118.000. The Group includes the aircraft manufacturer Airbus, the world's largest helicopter supplier Eurocopter and EADS Astrium, the European leader in space programmes from Ariane to Galileo. Its Defence & Security Division is a provider of comprehensive system solutions and makes EADS the major partner in the Eurofighter consortium as well as a stakeholder in the missile systems provider MBDA. EADS also develops the A400M through its Military Transport Aircraft Division. EADS Innovation Works (IW) is the corporate research facility of EADS with operations in France, Germany, Spain, UK, Singapore and Russia. Its overall workforce is more than 700 researchers.
Tasks in this project
EADS will lead the work package on internal usage scenario and will implement actively the aeronautics internal use case. EADS will actively contribute to the work on the demand driven extensions for the federated platform (WP5) and is also involved in the benchmarking of the federation (WP2) and in the general requirements (WP2)
Experience
EADS IW is covering all the skills and technology fields that are of critical importance to EADS. It is an operational and strategic entity to EADS Business Units for value-creating products and services through innovative technologies. It is feeding the innovation pipeline from the emergence of new technologies to their maturity and transfer into products. EADS IW, in its endeavour to maximize the innovation potential of EADS, actively operates a world-wide network with world-class universities, schools and research institutes. In its legal structure, EADS IW is part of the national entities of EADS.
JSI
The Jožef Stefan Institute is the leading Slovenian scientific research institute, covering a broad spectrum of basic and applied research. The staff of more than 930 specializes in natural sciences, life sciences and engineering. The subjects concern production and control technologies, communication and computer technologies, knowledge technologies, biotechnologies, new materials, environmental technologies, nanotechnologies, and nuclear engineering. The mission of the Jožef Stefan Institute is the accumulation - and dissemination - of knowledge at the frontiers of natural science and technology to the benefit of society at large through the pursuit of education, learning, research, and development of high technology at the highest international levels of excellence.
Tasks in this project
JSI joined the CREW project in July 2010, and complements the CREW platform with an outdoor wireless sensor network testbed based on a Versatile Sensor Node (VSN), which is a WSN platform with high processing capability, long-term autonomy and flexible radio. It supports a broad portfolio of sensors and actuators, while its modular approach allows adaptation to diverse application requirements. Furthermore, GRASS-RaPlaT, an open-source radio planning tool developed at Jozef Stefan Institute is made available. JSI contributes to all work packages in the project.
Open Call 2 partners